It's during the Boot at Düsseldorf that Boreal shipyard has seen its last born crowned "European Boat of the Year 2015" in the "Blue Water Cruise" category. 
In the boating industry this title is without doubt the most prestigious reward a shipyard can receive.
The winner of each category is elected by a jury of 11 journalists coming from 11 countries.
It's facing her direct competitors that the Boreal 52 successfully convinced the professionals.
This title places the shipyard among the main players of the industry.
Media coverage has been surprisingly wide with articles published in nautical magazines from Ukraine, Serbia or Montenegro.
A little reminder : the Boréal 44 already won the title of "Yacht of the Year" in France in 2010 and in the Netherlands in 2011 !
International press review

"Long-distance sailing has evolved from a dream of few
to a reality for thousands of owners.
Hence this new category, which the Boreal 52 wins convincingly.
For higher latitudes there can hardly be a better boat."
YACHT, GERMANY

"If you really want to enjoy the Boreal 52's best side,
you must prepare yourself for some bad weather.
This aluminium yacht is made for sailing
on planet Earth's outer limits. It's a tractor on the sea.
Boreal is not for everyone,
it's for the special kind of people – the real sailors."
Seilas, NORWAY

"Designed to sail as far away as the polar circle
or the remote channels of Patagonia,
the Boreal gives it's crew
a really great protection from the wind and the cold.
The good point is to know that the quality of insulation,
the ease of maintenance and the stability of route
are still very much appreciated when sailing under the sun."
Voile Magazine, FRANCE

"Every detail of the Boreal 52 is well-thought-out
and based on the first-hand experience of the shipyard's owners,
experienced circumnavigators."
YachtRevue, AUT

"The ultimate go-your-own-way-cruiser,
with an ideal separation between 'sailing' and 'living'.
Very good technical systems
and a surprisingly nice sailing boat – also in light weather."
Waterkampioen, NED

"Not fast but very soft and not nervous,
easy to steer and very gentle with the autopilot,
entirely designed for real extreme navigations
as well as for tropical cruising.
And she is not too ugly, a rare quality for this kind of boat."
Fare Vela, ITALIA

"She offers comfort and safety, the doghouse is sheltered place
that shows perfectly the concept.
In every detail, one can feel bluewater-experience of the designers.
And even though she weighs more than 15 tons,
the sailing abilities are quite surprising."
marina.ch, SUI

"Boreal 52 is the kind of boat you would want to be on board
for an expedition to … anywhere on the blue planet.
It's aluminium structure, the protected cockpit
and the attention to functionality and details
that will improve the safety level, is impressive."
BadNyt, DENMARK

"She might not be the most elegant yacht seen,
but nevertheless a more than appropriate boat for any excursion,
well equipped, safe and with outstanding sailing abilities."
BatNytt, SWEDEN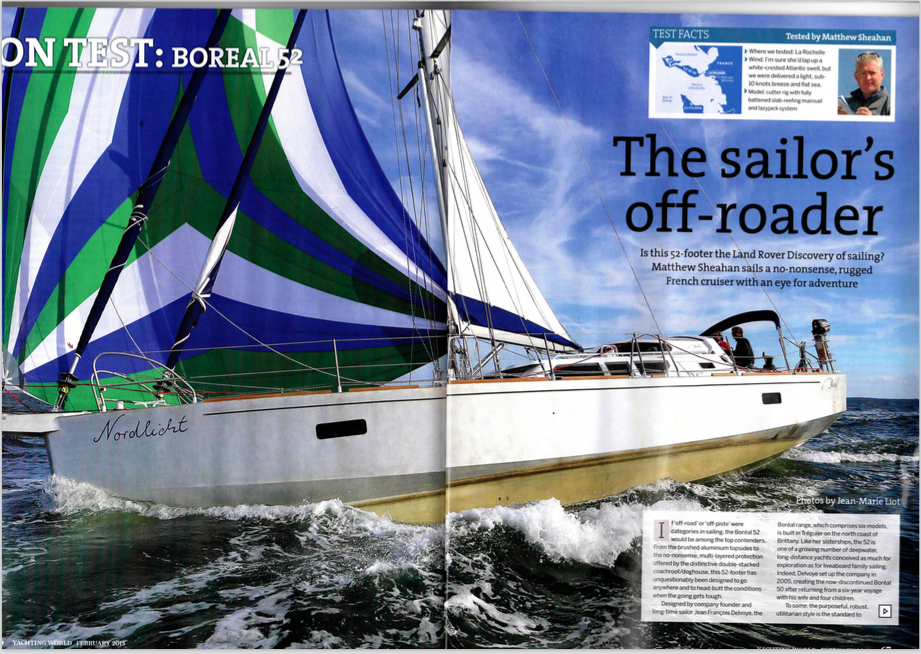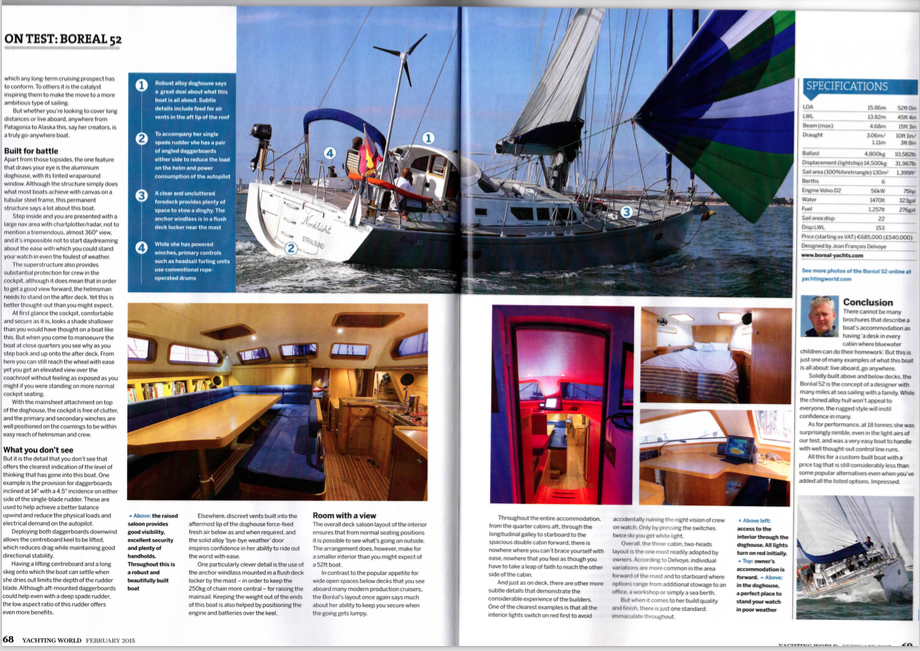 Read more at Yachtingworld.com