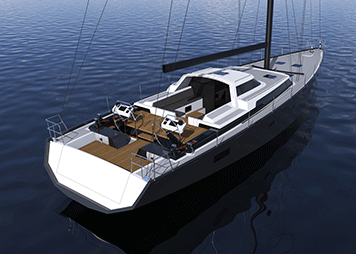 A little more of "everything"
The Boreal 68 was created to meet the expectations of owners who wanted a little more of "everything". This Boréal too respects Boréal's fundamentals while remaining maneuverable by a short or dual handed couple and without necessarily requiring the presence of a professional crew.
The Boreal 68 will be available in two versions: An "Owners'" version and an "Expedition" version. Projects for both versions are finalized and await their first owners.
The "Owners'" version is characterized by a huge luminous central aft cabin and a modular deck saloon on starboard: the lounge at the port turns into comfortable chairs at sea when heeling.
The "Expedition" version which should also be able to be used as charter vessel has a higher number of cabins/bunks with watch berth in the doghouse for the skipper.
In both cases the cockpit has a separated lounging and maneuvering area.
Characteristics
LOA :

21.22m

Full length :

20.34m

LWL :

18.80m

Beam :

5.63 m

Draught :

1.38 / 3,30 m

Lead ballast :

11 000 kg

Light displacement :

35 300kg

Standart engine :

180 hp

Sail area 218 m2 : Main

 103 m2, Genoa 115 m2, Staysail 50 m2

Fuel :

2 400 l

Fresh water :

1 200 l

CE Certification :

category A – 12 persons
Boréal 68 version Expedition